On Carol´s twitter: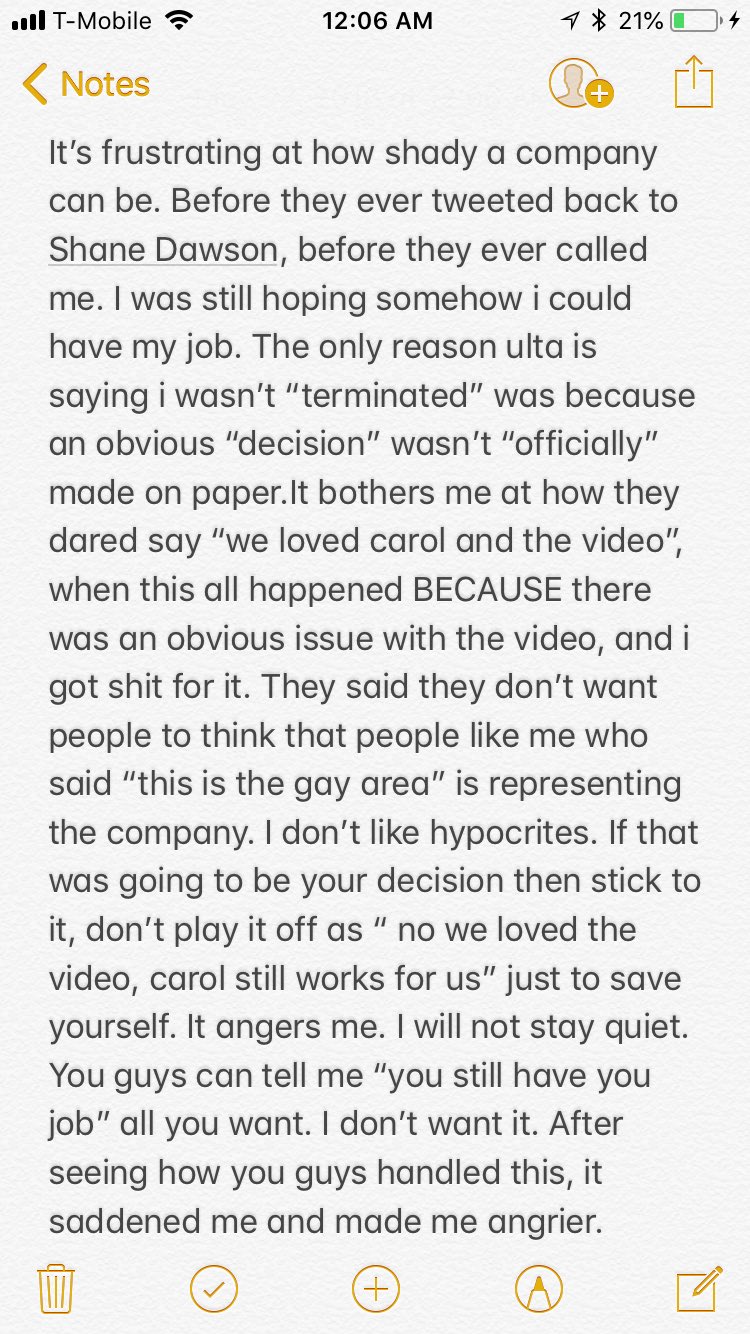 ---
I'm on Carol's side, but it's not very smart to act like that towards your ex-employer publicly, if she wants to get a new job in the future.
---
After reading all of Carol´s tweets it´s not really clear what had happened exactly.
They hadn´t fired her already but wanted her to come in and talk so she assumed they would fire her and left herself – or something like that. So you actually don´t know if they really wanted to fire her or just give her a pep talk or what. Also I don´t understand why she posted that instagram saying they fired her instead of waiting one day if they REALLY were firing her, ...is she looking for attention?
---
Gossiper

Posts: 798
Joined: Thu Jun 02, 2016 1:45 pm
Has thanked: 1 time
Been thanked: 0
kellinkenobi wrote: Whenever Shane posted screenshots of Bunny's social blade, bragging about how many subscribers she was getting from collabing with him, I wanted him to post Bobby's social blade, who is rapidly losing subscribers everyday since he entered the Shane vortex.
I just needed to find and highlight this post again because its accuracy was haunting me in my dreams.
---
Gossiper

Posts: 575
Joined: Thu Jul 20, 2017 6:53 am
Has thanked: 0
Been thanked: 0
About turning down drag race, didn't he say in his YouTube Rewind video that he was gonna stop turning down opportunities because of his insecurities?

Seems he's in a much darker place than he wants to admit. I know he's on meds (Adderall) but has he ever mentioned actually having a therapist and getting counselling? Because sounds like he needs to talk to a professional ASAP.
---
---
Learner

Posts: 37
Joined: Wed May 30, 2018 8:26 am
Has thanked: 0
Been thanked: 0
mamalady wrote:since alot of you miss the old shane, what are your top ten shane vids? I need a shane binge after all these boring vlogs
Every single video he's made with Drew and Garrett (the spooky boys one)
They're basically my favourite compared to the shit he's uploading nowadays.
Like seriously, they all have the audacity to not even mention Drew in the new videos. It's like they're replacing him with boring ass Morgan and Ryland...
---
Learner

Posts: 37
Joined: Wed May 30, 2018 8:26 am
Has thanked: 0
Been thanked: 0
Im not sure what video it was but it was a theory on Shane and his content. She was saying that all his meeting up with new people and playing the 'hero' is all an act and planned. For example Bobby is part of this company that specialises in collabs so maybe they reached out to Shane which is why he chose Bobby as his 'hater'. Him finding his videos wasn't random but was actually all a stunt. Megan Batoon is apparently part of the same company Bobby is in and she managed to collab with Shane too. I mean I'm not saying this is 100% true but what if his videos on confronting his hater or setting Andrew up with Megan is all an act and was actually planned so he gets paid for it.
What d'you guys think?
---
Learner

Posts: 37
Joined: Wed May 30, 2018 8:26 am
Has thanked: 0
Been thanked: 0
Have yall seen what he's written about his new conspiracy video? He says it's the most hardcore intense theory he's ever done. Who wants a bet that he'll say the exact same thing about the next conspiracy that he'll post. (Most likely in two years considering he posts every month now...)
---
MichaelScarn_ wrote:Have yall seen what he's written about his new conspiracy video? He says it's the most hardcore intense theory he's ever done. Who wants a bet that he'll say the exact same thing about the next conspiracy that he'll post. (Most likely in two years considering he posts every month now...)
Sis there's a new thread:
viewtopic.php?f=309&t=33788
---